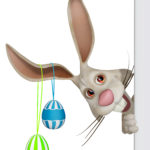 Seaside Heights LIVE 2022 Easter Egg Hunt
We are BACK to hosting our egg hunt on the beach!
10,000 eggs will be buried in the sands of the Seaside Height beach at five age-separated locations.  
The eggs will contain prizes from Seaside Heights businesses, such as free tickets for arcade play and boardwalk stand treats. 
Egg Hunt Beach Entrance Locations By Age:
0-2: south of Hancock Ave., across from Shake Shoppe (with the Easter Bunny)
3-4 south of Blaine Ave., across from One-of-a-Kind
5-6: south of Sumner Ave. across from Coin Castle
7-8: south of Hamilton Ave. across from Lucky Leo's
9-10: south of Lincoln Ave., across from Beachcomber
Special Needs: Franklin Avenue near the stage
The following Restrooms will be OPEN
Webster Ave (south of Casino Pier)
Ocean Terrace at Sheridan Ave (north of Casino Pier)
– Be sure to bring a bag or pail in which to carry the eggs your child finds
– Dress in layers. The temperature at the beach varies greatly depending on wind direction and can change quickly
VISIT THIS PAGE FOR LAST MINUTE UPDATES BEFORE HEADING TO THE HUNT
The rain date is Saturday, April 16, at 1:00 p.m.