We're everything you want in a beach town.
Seaside Heights was born to be New Jersey's most famous seaside resort. Whether you're here for a day, a weekend, or a summer, you'll find no shortage of things to do and see.
Mix and match your idea of a great day.
Splash in the sparkling waters.
Breathe the fresh ocean air.
Feel the sand between your toes and the sun refreshing your soul.
Swim on a sizzling summer day.
Stroll the ultimate American boardwalk.
Ride the Casino Pier and Breakwater Beach amusements.
Unwind with a game of mini golf.
Catch a fish, crab, wave, sunrise or sunset.
Or…
Just sit back, relax, and take it all in.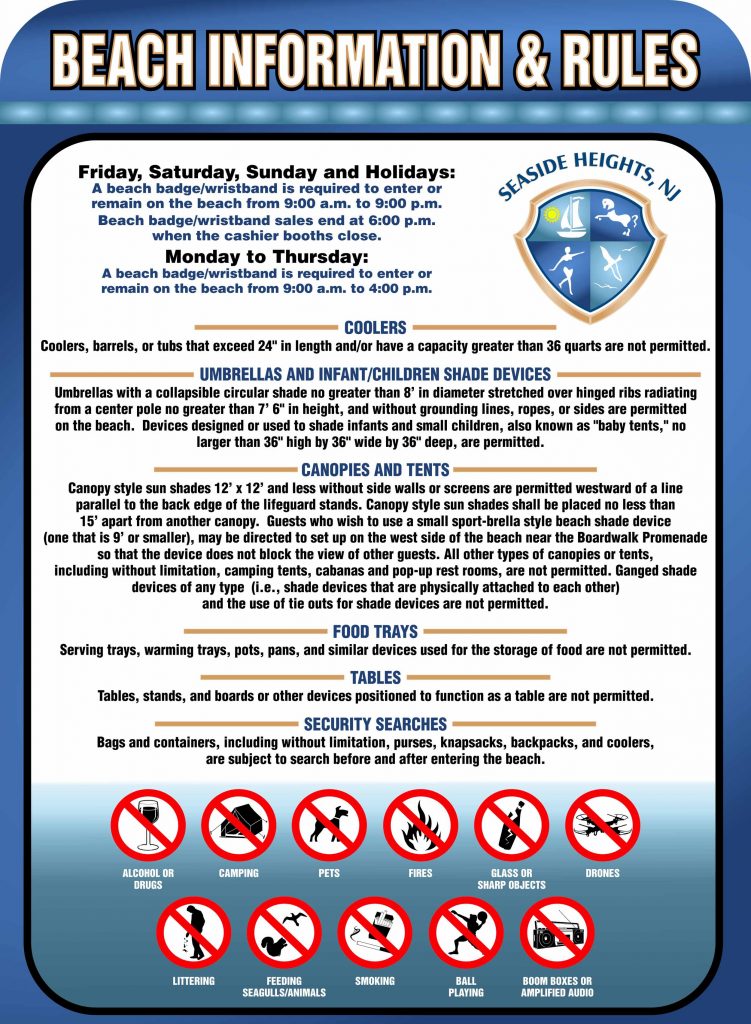 Seaside Heights charges a beach fee to help defray expenses related to providing visitors one of the cleanest and safest public beaches on the East Coast.
Beach Badges are in effect May 15th - September 15th
Daily fee - $8
Weekly badge - $35 (Sunday through Saturday)
Season badge - $45 if purchased on or before May 15th
Season badge - $60 if purchased after May 15th
Senior Citizen season badge - $10 for persons 65 years of age and older
Children 11 years of age and under - free every day
Active and retired military personnel and their dependents - free every day with the appropriate Common Access Card, Uniformed Services ID Card, DD Form 214, or Veterans Benefit ID Card issued by the VA.
Free & Discount Days
Bay beach - free every day.
Seaside Heights offers beach fee discounts throughout the summer, including Mom and Me Days, Dad and Me Days, Bring a Friend Days, and Bring a Hero Days.
Beach Hours
Friday, Saturday, Sunday & Holidays:
A beach badge/wristband is required to enter or remain on the beach from 9:00am to 9:00 pm. Beach badge/wristband sales end at 6:00pm when the cashier booths close.
Monday to Thursday:
A beach badge/wristband is required to enter or remain on the beach from 9:00am to 4:00pm.
Bringing Groups to the Beach
(camps, recreation programs, etc.)
Should you be planning to bring a group via bus (mini or full size) to enjoy our beach and Classic American Boardwalk, for your convenience please make arrangements in advance. By doing so you will know, in advance, how to pay, where the bus can discharge your group, and where to park the bus.
To connect with Beach Control for beach admission, call Seaside Heights Borough Hall at 732-793-9100
For Breakwater Beach or Casino Pier group visits call 732-793-6488 x8214
To obtain a permit (a borough requirement) for your bus, click here.